BLUETTI's Veterans & Military Benefits Program
All around the nation, red poppies will blossom in May. Memorial Day is steadily approaching as well. So, it is a time for reflection on the past in preparation for a more peaceful present. Today, we are encouraged to value the freedom that comes with family dinners, backyard barbecues, and other similar summertime pastimes. But, for Memorial Day, BLUETTI has something more special prepared. It introduces the Veteran & Military Benefits Program. It will offer 10% off the EP500/EP500Pro, AC200MAX bundle, AC200P, EB70S, and EB55 for military members. And this applies to whether they are in service or have been discharged.
The EP500/EP500Pro-Home Backup is a Smart Choice
(The EP500 was originally for $4,399, now $4,499. Meanwhile, the EP500Pro was originally for $5,999, now $4,999.)
According to PowerOutage.US, a series of extreme weather conditions in mid-June caused over 700k electric customers across the USA to be left without electricity. Similar consequences in April resulted in an island-wide blackout in Puerto Rico. As a result, it left approx 708k customers to remain without power for hours. These reports show the poor supply of electricity in the country, especially during extreme weather conditions. Most importantly, it highlights the need for alternative options for power supply.
The EP500/EP500Pro both have the same 5,100Wh of storage to power necessities for the home for days. Although they are made to take care of electrical equipment rated below 2000W or 3000W. However, as soon as you link them to the grid, they will promptly detect power outages. Then, they'll supply backup power for the entire house. Above all, finally, the BLUETTI app supports OTA firmware updates and remote control.
Everything's coming from the sun: AC200MAX+B230
(Original $3,299; discounted to $3,099)
This one has an all-in-one solar generator, expansion battery, and panel. The BLUETTI AC200MAX can handle up to 4,800W of quick startup power. Besides, it can run high-drain appliances with rated power lower than 2,200W. After all, it is BLUETTI's first expandable solar power station and can connect two B300 battery packs. This helps it to get a maximum 8,192Wh capacity (3,072Wh per pack).
The maximum solar input for the AC200MAX is 900W while the greatest AC input is 500W. It will charge to capacity in two hours when using solar panels and an AC adapter combined. Moreover, installing this solar system outdoors or simply as a backup power source for your home will give you the most power in the shortest amount of time. With a 30A NEMA TT-30 outlet and a 12V/30A Super DC outlet, the AC200MAX makes powering car electrical gadgets simple for RV or camping enthusiasts. Besides, the BLUETTI app has complete knowledge about the AC200MAX. And you can access this information at any time and from any location.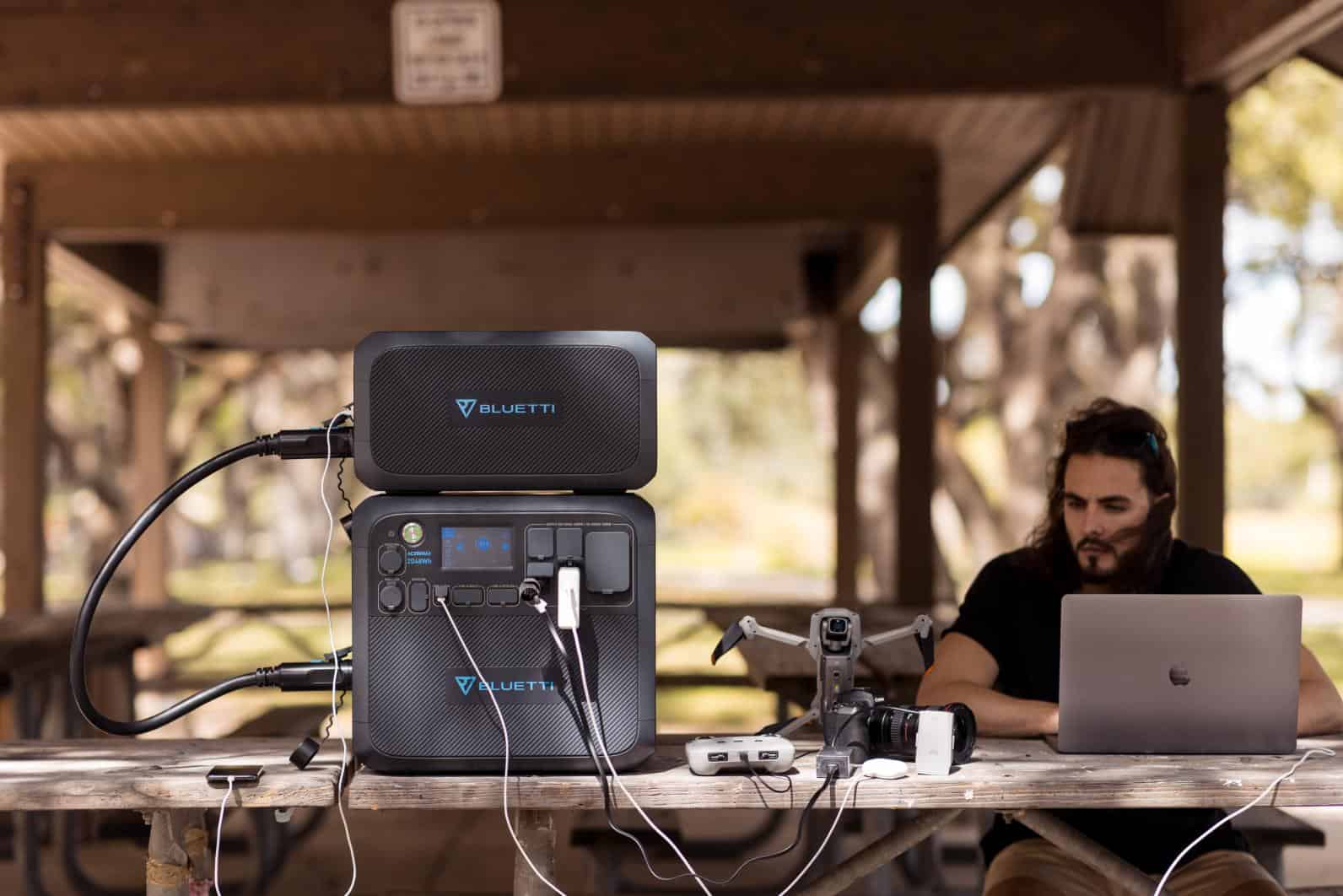 Power Anything, Anywhere with the AC200P
(Original $1,599; discounted $1,499)
The BLUETTI style's AC200P is typical in that it combines portability and power. RV excursions, camping, fishing, wilderness adventures, etc., have been on the rise. "We've made our portable solar solutions to make it easy to carry literature while providing a strong output," according to James Ray, BLUETTI CPO. The AC200P has a 2,000Wh or 40Ah Lithium Iron Phosphate (LiFePO4) battery. So, it can provide up to 2,000W of continuous AC power (and 4,800W of surge power) at a time. These battery cells will survive 6–8 times longer than the alternatives. For example, lithium nickel manganese cobalt oxide (NMC) and lithium nickel cobalt aluminum oxide. Thus, it retains 80% of its initial capacity after 3,500 full cycles (NCA).
Additionally, the AC200P can take 500W from AC power sources and 900W from solar panels. It will charge in under two hours when connected to both at once. Moreover, a single AC200P may supply power to 17 devices. The standard 100-120V AC outlet, Type-C, USB-A, DC5521, auto plug, 12V/25A RV port, and wireless charging on the top are among its output possibilities. These would accommodate practically all daily electronics.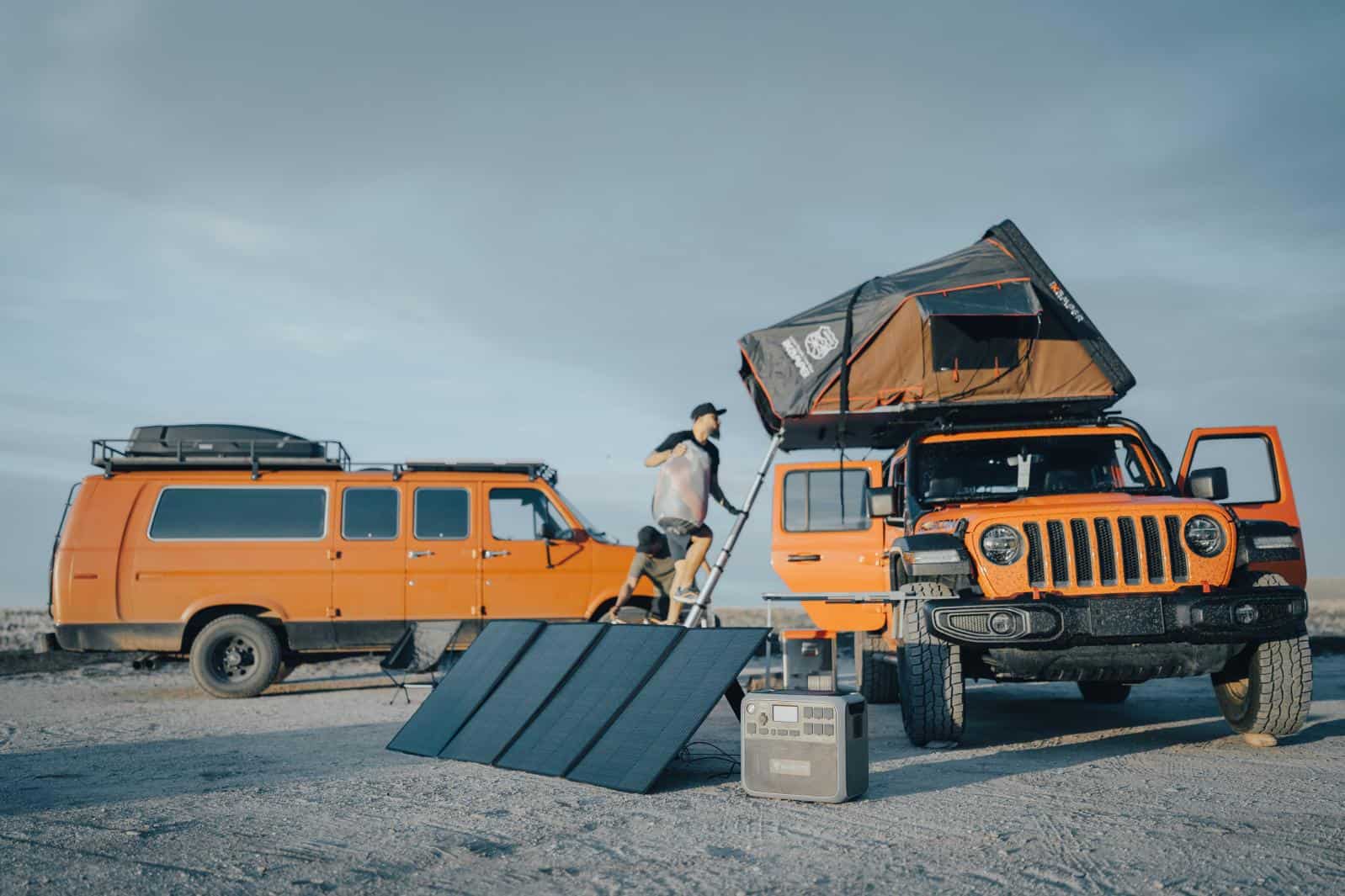 Good Things Come in Small Packages: EB70S+EB55
(EB70S- $599 original, $549 discounted)
These two BLUETTI portable power units are compact but include full functionality. Except for battery capacity and output power, they are very similar to one another. The EB55 has a 537Wh battery and a 700W inverter. Meanwhile, the EB70S has a 716Wh LiFePO4 battery and 800W AC pure sine wave inverter.
Due to the LiFePO4 battery chemistry, the EB70S and EB55 will keep about 80% of their rated capacity after 2,500 discharges and charges. Furthermore, both have 12 outlets for charging several gadgets at once. They have similar dual charging capabilities using 200W solar and 200W AC input. On top of all, the unit's folding handle is useful for trips outside or while on the go.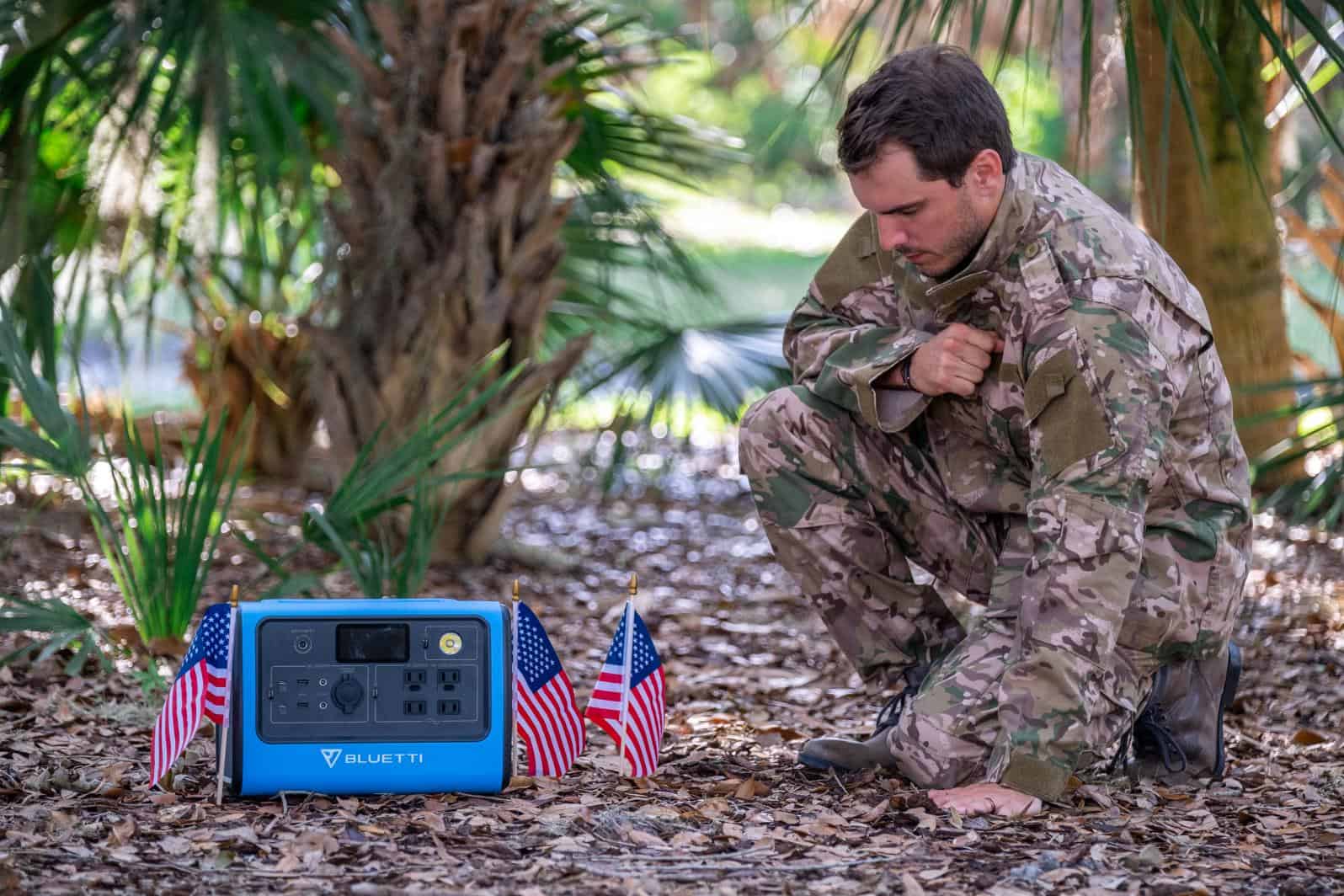 How to Join the Program and When?
The BLUETTI Veteran & Military Benefits Program began on May 26 at 7:00 PM PDT.
Verify your military or veteran status on the BLUETTI website to get the process started. The software is solely intended for private usage.
Also, to give applicants secure and convenient access for verification purposes and to confirm their eligibility for the BLUETTI Veteran & Military Benefits Program, BLUETTI collaborates with the ID.me company. It will only use the information entered to verify if the applicant is a member of the armed forces or a veteran.
About BLUETTI
To maintain its commitment to a sustainable future, BLUETTI has developed green energy storage options for both indoor and outdoor use. This has allowed the company to provide an amazing eco-friendly experience for everyone across the world. Millions of clients worldwide trust BLUETTI. Moreover, it has a presence in more than 70 countries. Please visit BLUETTI's website at https://www.bluettipower.com/ for further details, or follow BLUETTI on:
YouTube: https://www.youtube.com/c/bluettiofficial
Instagram: https://www.instagram.com/bluetti_official/
Facebook: https://www.facebook.com/bluetti.inc
Twitter: https://twitter.com/bluetti_inc